Port Royal, Naples, Florida Real Estate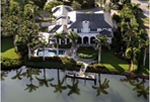 View all properties for sale in this community
Port Royal, on the south part of the peninsula that also includes Old Naples and Aqualane Shores, is the premier boating community in Naples. Of the 500 or so single-family houses in the community, most have back-yard docks on Naples Bay or one of the deep-water feeder canals, a few of which can handle boats up to 100 feet in length. On the western side of the neighborhood, beachfront mansions line the Gulf of Mexico. Some homes were built when the community was developed in the 1950s and 1960s, but most have been reconstructed or torn down to make way for new estates. Boaters can get to the Gulf of Mexico within minutes via Gordon Pass. Marine facilities are available at the City Dock in Old Naples. Residents on almost all the streets in Port Royal are eligible for membership in the Port Royal Club, which is directly on the beach. It has nine tennis courts, dining facilities and an Olympic-sized swimming pool. The club serves as the Port Royal community center, with a wide variety of social activities.
Olde Naples Real Estate, Olde Naples Homes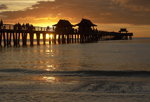 View all properties for sale in this community
Old Naples takes its name from the seaside village in Italy. It has developed from an isolated spot on the Gulf coast accessible only by boat to a sophisticated tropical resort noted for its boutiques, art galleries, restaurants and street fairs on Fifth Avenue South and Third Street. While the Gulf-front mansions and historic Naples Pier are often pictured in the tourist ads, the village is filled with condos and villas and single-family houses from cottage-style to statuesque. Old Naples is at the northern part of a peninsula that includes Aqualane Shores and Port Royal. On the western front is the award-winning beach and on the east side the City Dock on Naples Bay.
Featured Listings